Sliding and hard coating
Essential for the quality

High performance coatings
from Lutz Blades
The basis must be right – this is a matter of course with our blades. That's why every material we use is optimally matched to the task it has to do. And it is the same with the sliding and hard coating. Here, too, there is no watering can principle. Our experts will recommend exactly the coating that best suits your cutting application, cutting environment and manufacturing process.
How you benefit
from our high performance coatings
Higher cutting speed and output quantity
Longer service life and fewer blade changes
Less friction between cutting edge and material to be cut
Higher cutting quality
Variants
of our coating program
ZrN
DLC
CrN
Teflon® (PTFE)
How does a
Coating?
Friction occurs between the blade and the material being cut. This friction leads to minute (unavoidable) damage to the cutting edge. Over time, these micro-damages "add up" and result in dulling of the cutting edge.
Solution A: Choice of a material whose nature slows down the formation of the damage.
Solution B: Choice of a coating that lies as a thin film between the cutting edge and the material to be cut.
See for yourself the performance advantages of a coated blade compared to an uncoated one here.
Exemplary illustration: cutting manmade fiber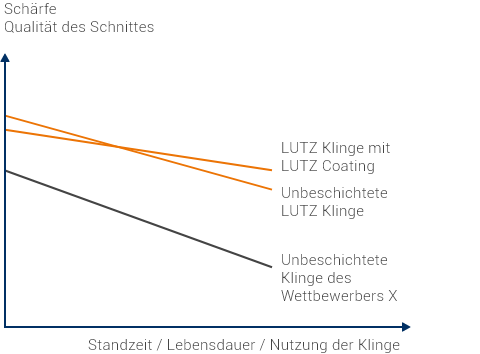 The different variants
of our coating program
The LUTZ BLADES coating program includes the following variants:
TiN
Standard hard material with high wear resistance and relatively high coefficient of friction (against reference material steel approx. 0.4 to 0.7), usually gold-colored, safe application range up to approx. 300 °C.
TiC
Has lower wear resistance than TiN with significantly lower coefficient of friction (against reference material steel approx. 0.3 to 0.5), usually anthracite colored.
TiCN
Intermediate coating material between the high wear resistance of TiN and the low coefficient of friction of TiC, relative position between TiN and TiC depending on the ratio of C and N, usually anthracite color.
TiAlN
Has greater oxidation resistance than TiN with comparable coefficient of friction, usually anthracite blue.
ZrN
With a wear resistance similar to TiN, but denser structure (morphology) than TiN and thus greater resistance to pitting under appropriate load, usually steel colored.
DLC
Has high wear resistance with low coefficient of friction (approx. 0.1 against reference material steel); susceptible to impact loads and high temperatures (between 100 and 300 °C depending on structure).
CrN
Has lower wear resistance than TiN. Advantage of CrN: lower residual stresses than TiN. Therefore partially useful for applications with high bending load.
Teflon® (PTFE)
Teflon® non-stick coating (PTFE); due to the very low surface tension, practically no foreign bodies stick to the cutting edge, resistant to acids and alkalis; significantly reduced frictional resistance; the very low static friction allows jerk-free cutting (therefore very suitable for the medical sector); low wear resistance; not suitable for contact with sodium and at temperatures above 250 °C.
Color varnish
Applied over the entire surface, serves as a sorting aid for different material thicknesses and as corrosion protection.
Blueing / Blackening
Applied over the entire surface, light corrosion and starch protection, also serves as a distinguishing aid.
Of course, coatings of the cutting edge can be combined with full-surface coatings.
For every cutting task
the right blade
No matter what cutting task lies ahead of you – at LUTZ BLADES you will find exactly the right blade. Perhaps already in our rich standard range of more than 1500 blades. Or we will work with you to develop exactly the blade that is, quite literally, tailored to your specific cutting task. Our many years of experience in blade manufacturing and the availability of all necessary manufacturing steps in-house qualify us as a competent development and production partner.
Things to know
around LUTZ BLADES
Do you have individual wishes?
We are pleased if we can be of further assistance to you
Piepersberg 20
42653 Solingen
Germany